The following are my novel-length fictions for sale. Clicking on the cover image will take you to the Amazon listing for the book.
---
Hope, a world peopled by anarchists, is in ecological crisis. For 1200 years, a secret Cabal has elevated powerful psi talents to the Godhood of Hope -- the management of Hope's crust -- at the eventual cost of their lives. Now only two remain: Armand Morelon and Victoria Peterson. But one is utterly unwilling and the other is murderously insane. The survival of Mankind hangs in the balance.
---
Althea Morelon, polymath, psion, and highest child of the anarchic world of Hope, wants to go to Earth to learn what's become of Man's silent homeworld. But her clan, the highest of Hope, and her husband Martin won't let her go willingly. Clan rivalries, dynastic tensions, and love obstruct her path, as Hope gestates what its settlers fled Earth to escape: the State. Sequel to Which Art In Hope.
---
The women's hour has come: The highest child of the anarchic world of Hope vows vengeance upon a whole planet...for using her as a weapon. The greatest healer in history is cast out by her clan...for falling in love. A planet ruled solely by women seeks to destroy the freest society in history...to avert punishment for an unthinkable crime. The fate of Mankind hangs once more in the balance. Sequel to Freedom's Scion.
---
Louis Redmond is the pinnacle of Mankind: a high genius, a world-class athlete, and a natural leader of men. He has the respect of all who know him. He's protected by an immortal warrior whose vigilance never slackens. Yet he would trade it all to be as ordinary as you or I, without a backward glance. For Louis's powers bring him great danger, including from the One he trusts most in this world.
---
You're a young woman with no memory of your past. You've been made a sexual slave by a gang of vicious bikers. After ten years' agony, you've freed yourself by committing murder and earning a faceful of scars. But the biker king is obsessed with you. Your sole chance of escaping him lies in trusting a mysterious young man you've just met. Do you choose the devil you know, or the devil you don't? Sequel to Chosen One.
---
Christine D'Alessandro returns to Onteora County and is enmeshed in two deadly conflicts: one between security entrepreneur Kevin Conway and his competitor Ernest Lawrence; and one between presidential aspirant Stephen Sumner and President Walter Coleman. Behind them looms a third struggle, between two immortals, for the future of Mankind unto the limits of Time. Sequel to On Broken Wings.
---
Three siblings: A mystic, with power to heal the wounds of the soul and dispel the anguish of the dying; A genius, who strove to bring human desire itself to heel, and succeeded beyond her hopes; And a visionary of freedom, whose depictions of courage in the face of oppression brought him a most unpleasant official notice. They huddle in a cabin in the New York woods. The door is open to you.
---
Helen and Martine run unusual establishments: "sex shops," one in Los Angeles and one in New York, that never ask payment for their wares. They aren't in business to sell "novelties." They aren't there to make a profit. Their mission, as priestesses of erotic desire, is to spread erotic knowledge among those who need it...and really, isn't that all of us?
---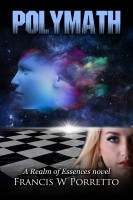 Todd Iverson is a polymath of both the sciences and the arts. His highest ambition is to return America to space. However, he has personal problems and inadequate resources for dealing with them. It falls to Louis Redmond, Malcolm Loughlin, and other Onteora County giants to ready Todd for the American Renaissance he, Stephen Sumner, and the Constitutional movement will inaugurate. A thematic continuation of the Realm of Essences story told in Chosen One, On Broken Wings, and Shadow Of A Sword.
==<O>==